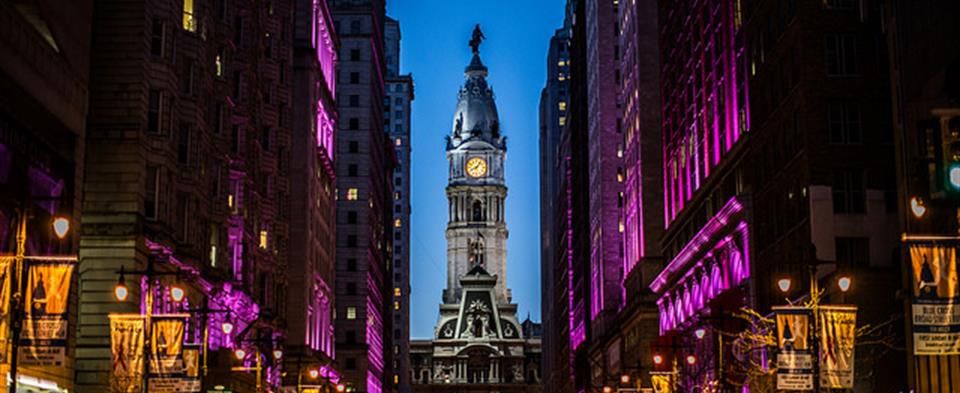 I recently had the pleasure of organizing SharePoint Saturday Philly on June 22nd. The last time that SPS Philly was around was 4 years ago. This was my first time organizing this event, or any event for that matter, and I thought it would be nice to write down my experience.
Early Planning
During a meeting of the Tri-State Office 365 user group, a brief discussion broke out where several people expressed their desire to see SPS Philly return to our area. After that meetup, a few of us got together and started discussing what it would take to restart the event. We kicked around a few basic ideas like how to run the event with a tight budget, how many people to plan for, where to buy/rent the required items (tables, coffee, sodas, etc), and identifying the people that we need to speak to in order to host the event at the Microsoft Malvern office. We even discussed whether the event should be called SharePoint Saturday Philly or Office 365 Saturday Philly. I chose to go with SharePoint Saturday for this year, but I'm certain that it'll go by a different name next year.
In January, I decided that I was definitely going to give it a shot and needed to choose a date. In talking with someone involved in past events, we felt it was best to avoid the winter months so I was looking at May 25th but the SharePoint Conference was scheduled for the week before. SPSDC was also eventually lined up for the beginning of June. I wanted to keep some distance from those two events so I then thought, "how about mid to late July?" No luck, SPSNYC was lined up for July. (I'm actually writing this on the day of SPSNYC.)
I finally decided that June 22nd was going to be the day. In February, I reached out to the SPS Events folks to request a site for my event info. They set me up with one and sent me a pdf which was essentially a checklist of common tasks for the event.
Sponsors and Speakers
During the month of February, I started to figure out how I was going to collect payment from sponsors, what my sponsor package would look like, setting up a domain and a social media presence. In March, I got word that another person, Manpreet Singh, inquired about hosting SPS Philly so I reached out and he and I met up and started to finalize the sponsor package and our plan for reaching out to businesses who might be interested in sponsoring. On March 15th, the call for speakers opened and then the call for sponsors on the 18th.
Over the next few months, we made sure to mention the event frequently on social media. I aimed to tweet at least two times per day on @SPS_Philly Shortly after, the speakers started to submit topics. Now things started to get interesting.
I started reaching out to potential sponsors via email; usually in the evenings or during my lunch break. This method resulting in a very low response rate. Many times, I would reach out to the wrong contact. If I couldn't find a contact person, I would reach out to a sales or marketing team or a business' info or contact account. The info/contact accounts were practically useless but they were last resort. I'm not sure if those accounts were monitored but I did start receiving marketing material from those accounts in many cases. There were a couple of businesses that showed interest very early on, but never pulled the trigger.
I eventually started getting responses and in many cases, it wasn't until the 2nd or 3rd follow up email. I kept a spreadsheet of everyone I contacted, when I contacted them, if they responded, and any notes from our exchanges. Then things started to get scary. At this point, I'm committed. There was nothing that was going to make me postpone or cancel this event. That's when I saw 2 tweets by the previous organizer that made me nervous. The 2nd tweet was as follows:
I kept pushing forward, reaching out to local businesses, businesses that deal with Office 365 and Azure, businesses that have sponsored regional events, and even some that were sponsoring the SharePoint Conference. More bad news was around the corner. I spoke to another local event organizer who mentioned that local sponsorship in general has been down and to compensate, he needed to start charging attendees to come to events so that the sponsor fees could be low enough to entice sponsors. This wasn't an option for me if I wanted to stay under the SPS Events umbrella. One of their only rules is that the events are free to attendees. I had to keep reaching out to businesses. My co-organizer also attempted to reach out to some businesses, in person, at local events. They also expressed interest but never pulled the trigger.
Failed Diversity and Inclusion
While all of this was going on, I wanted to do something to promote diversity and inclusion, partially because my wife and I had a daughter the previous year and since then, the topic has been a little more front and center to me. I had no idea what this was going to look like at first and by the time I started doing anything about it, it was probably to late. I reached out to a couple of women led groups in the tech industry but didn't get a response. I spoke to others and no one could think of what it would look like. It wasn't until the event was nearing that I finally had some ideas but it was too late to organize anything. At a minimum, I thought it would be cool to have 50% of our speakers be women but we never got enough submissions to do that. We received a wide variety of topics so it worked out that I was able to accept every presentation submitted by a woman. A few backed out Every woman that submitted a topic was accepted; the topics were varied enough that I didn't have to make decisions on one person's presentation vs another. Several, 4 or 5, had to back out. In the end, we had 3 women speakers.
Budgets and Estimates
Meanwhile, my persistence was starting to pay off and the sponsors started coming in. Others started responding to my messages but I reached out to a few more just a little too late for them to budget for the event. Now that the funds started to come in, I started to solidify my shopping list and estimates. The food estimates were spot on. We had some left overs but not too much. The drinks, however… that was a different story.
I found a breakdown of items purchased for past events and I based my numbers off of that. The past event had 300-400 people and I capped this event at 200 so I bought half of the items listed. Well… it seems that people don't drink sodas anymore (I don't either) and it showed. Here are the left over drinks and there were many more that you can't see in this photo. I still have the water, orange juices, and apple juices. I gave away the sodas.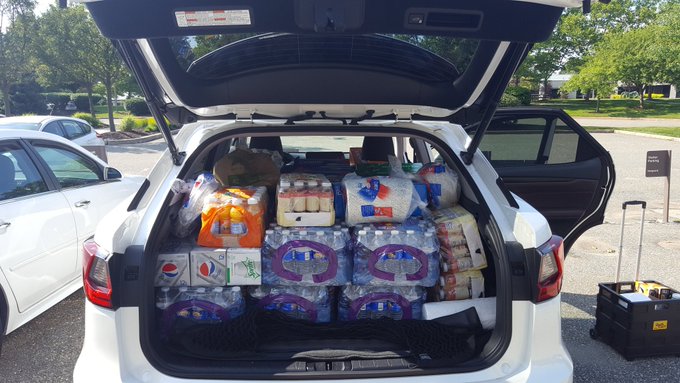 In addition to buying too much soda, I didn't get enough coffee. I went by the stores judgement on how much I would need for the amount of people who were planning to attend and it was grossly under estimated. The first shipment of coffee was done before the first session ended. It may have been done before the first session began. A 2nd shipment came in with the lunch order and that one lasted longer.
I also rented some tables and that was the one thing that I expected to go smoothly and oddly enough, it didn't. I placed an order through a local shop who services that location frequently. I ordered a good number of tables and asked for them to be delivered on Friday as late as possible. We agreed to 4pm. It needed to be late because Microsoft shares that building and they didn't want to interfere with shipments for the other business. Well, they delivered the tables at 8am on Friday and it turns out, that's not unusual for them. Luckily, it didn't interfere with other shipments that day.
Speaker Dinner
Over the couple of months leading up to the event, my biggest concern was the budget; especially after seeing those tweets about the past event and getting feedback about recent events. I shopped around quite a bit when deciding what would be on the menu and from where. Once we were nearing the event, it was looking like I was going to have a solid budget. I was keeping the speakers up to date about looking for a venue for the speaker dinner. It was between a hotel restaurant where I secured a room block for the speakers, and P.J. Whelihan's Pub. The hotel got back to me fairly quickly and there wasn't much time left so I went with the hotel. That turned out to be a good decision because the food was pretty good. I was glad that we were able to have the dinner. It was great getting to know these speakers.
Game Day
The doors opened early for us to setup. I had some volunteers arrive at 7am and we started unloading the drinks and moving the tables. Breakfast also started arriving. Surprisingly, the setup continued all the way until the beginning of registration. I planned on saying a few words of welcome in the beginning but never got around to it so everyone just went from the food to their sessions. From here on out, I was running around the building and it wouldn't stop until happy hour. My phone is setup to track my steps. It's something that I setup for a work competition a while back and never turned off. By the time lunch rolled around, I had crushed my daily goal. I was hoping to actually see a few presentations but that never happened. Between checking on registration, food, making sure the sponsors had what they needed, and checking in on the speakers, I didn't have enough time to actually sit in on any of them other than to take pictures.
Feedback
The feedback for the event was overwhelmingly positive. The speaker surveys where very positive as well as the event surveys. The event survey asked the attendees to tell us what they'd like us to change and what we shouldn't change. The attendees really enjoyed the venue and the food. A few of the changes requested included, adding more time to the sessions and less time to the breaks, adding opening remarks, better communication around session changes and the lunch and learn sessions, more sessions, and use PowerApps/Flow to collect feedback. Someone suggested Philly themed food like pretzels (I did look into it but most of the food was coming from the same location for simplicity and they didn't have pretzels).
I agreed with most of the feedback and plan to address them next year.
Lessons Learned
Some people saw during the event that I was running around with a schedule in my hands. On the back, I was making a list of lessons learned. Here are a few:
Choose an earlier date
Order more coffee!!
Make time for opening remarks
Use eventbrite for all registrations (including speakers and sponsors)
Buy less soda
Set a deadline for lunch & learn topics (our platinum sponsors got their own lunch sessions but I didn't get all of the topics in time to add them to the schedule)
5 sessions per hour instead of 6. We did 6 sessions per hour b/c the venue had strict room capacities but to be safe, I chose to not account for no-shows.
Make sure I have scotch tape (thanks for the tip Nancy!)
Delegate better. I have a tendency to take on everything when it's crunch time but now that I know what's involved, I should be able to manage that better.
There are more items on my list but these were some of the more important ones.
Final Thoughts
Overall, the event was successful but we did have a larger than average no-show rate. On average, an SPS event has a 20-30% no-show rate. I suspected that it would be a little larger for us and it turned out to be correct. We had close to 50% no-show. We had a week of terrible storms and that Saturday was about as perfect of a day as you could ask for. We had people coming in and out too so it might have seemed a little more than that to attendees. There were people who only stuck around for the morning sessions and people who only attended the evening sessions.
I joked that the event was like my wedding day. Fun, lots of emotions, and in the end, a bit of a blur. I'm looking forward to doing it again next year and I've even started looking into hosting other events. Nothing confirmed yet, but I'm looking into a few things. If I do, I'll keep you posted.
I couldn't have done it without the help from so many people and I am very grateful for all their help. From Mike Mukalian, Manpreet Singh, Tim Ferro, Bill Wolff, and Tom Daly for their advice, direction, and help, to the volunteers, speakers, sponsors, and attendees who helped make it all a success. Thank you all.